Housing & Neighborhoods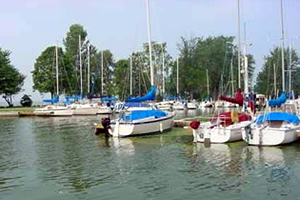 Housing options in and around St. Marys are very diverse. Small town living, with its walkable neighborhoods to great schools. Country living, where space is readily available. Lakeside living, where a scenic view is right outside your window. Whatever environment you prefer, St. Marys has an affordable, attractive housing option for everyone. With dozens of distinct and colorful neighborhoods to choose from, residents can easily find housing to match their lifestyle.
St. Marys is located along the shoreline of Grand Lake St. Marys. With a shoreline of 52 miles long, the lake is approximately nine miles long and three miles wide. It is the largest artificial body of water in the world built without the use of machinery. Lake activities include camping, fishing, boating, and swimming.
Housing & Income Demographics

St. Marys

Auglaize Co.

West Central Ohio

Total Housing Unit

3,479

18,470

264,678

Total Households

3,218

17,376

245,826

Average Household Size

2.55

2.62

2.59

Average Family Size

3.1

3.11

3.07

Households with under 18

1,204

6,449

89,421

Households with over 65

827

4,346

60,067

Owner Occupied

2,271

13,536

184,970

Renter Occupied

947

3,840

60,067

Median Home Value

$78,000

$90,600

$90,950

Per Capita Income

$17,682

$19,593

$19,076

Median Family Income

$44,557

$50,024

$48,694