Utilities
Telecommunications
St. Marys has telecommunication advantages of few communities its size. TSC, our local telecom provider, provides these services:
Broadband with high-bandwidth information at amazing bi-directional speeds
Wireless service is also currently available.
TSC is one of Ohio's premier regional partners in expanding broadband coverage throughout the state. Today the company remains on the cutting edge of telecommunications.
LOCAL EXCHANGE CARRIER
TSC
Local Office: St. Marys, Ohio
419-300-2300
INTEREXCHANGE CARRIER
AT&T - Verizon Business
Point of Presence City: Toledo, OH
INTERNET SERVICE PROVIDER
bright.net
FIBER NETWORK - IPCENTREX
TSC utilizes a fiber sonet ring directly to AT&T, MCI (Verizon Business) and the Toledo, Ohio tandem, as well as the Lima, Ohio tandem.
CABLE PROVIDERS
TSC
Spectrum
---
Electricity
St. Marys is one of Ohio's 81 public power communities. Therefore, our local customers – businesses and residential - own the electric company. As a community, we determine our electric strategy. Local elected officials decide where we buy our power and how it's generated - coal, gas, hydro, wind. We establish the rates, fees, and distribution systems. The City of St. Marys service is exceptional. Our industrial leaders meet regularly with the City administration. If there is a problem, you know exactly who to call and where their office is.
City of St. Marys Electric Department
101 E. Spring Street
St. Marys, OH 45885
419-394-3303, ext.3161
Contact: Mack Kuenning
St. Marys a member of AMP-Ohio, a non-profit corporation organized in 1971 for the purpose of owning and operating electric facilities and provide for the generation, transmission, and distribution of electric power to its member public power communities.
---
Natural Gas
NATURAL GAS PROVIDER
Dominion
Regional Office
150 S. Jackson St. Lima, OH 45801
419-226-4866
---
Water – Wastewater - Solid Waste
In 2010, the City of St. Marys completed construction of a new wastewater plant. The state of the art facility provides ample wastewater treatment capacity for those companies considering new investments.
Excess Capacity 7.5 MGD.
The City of St. Marys has a tremendous water resource available to new companies. Our community obtains their water from the ancient Teays underground river system. This water source provides high volumes of high quality ground water to our treatment plant where it is softened to accommodate the potable water supply requirements of the community and business.
Excess Treatment Capacity 1.25 MGD.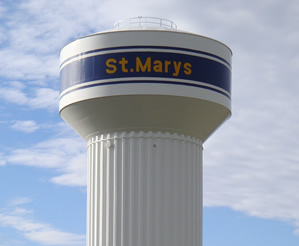 WATER & WASTEWATER PROVIDER
City of St. Marys
Water & Wastewater Department
419-394-4114
Contact: Jeff Thompson, Water & Wastewater Superintendent
Water excess capacity: 1.2 MGD
Waste Water excess capacity: 7.5 MGD
SOLID WASTE SERVICE PROVIDER
City of St. Marys
Solid Waste Department
419-394-4800
Contact: Doug Metz, Solid Waste Superintendent